TSF has ongoing campaigns with tee shirts and sweat shirts for Sanfilippo families supporting Sanfilippo and personalized awareness, as well as ribbons and bows, soldier garden flags, angel garden flags, wine glasses, mugs totes etc. Our merchandise is updated on our Facebook merchandise page and ever changing, Please stop by and browse the latest inventory by clicking here > https://www.facebook.com/Team-Sanfilippo-Merchandise-105193968042648 Families who are interested in creating a shirt for their child, please contact Danielle at lieuslady@yahoo.com she will help you in designing a shirt for your child !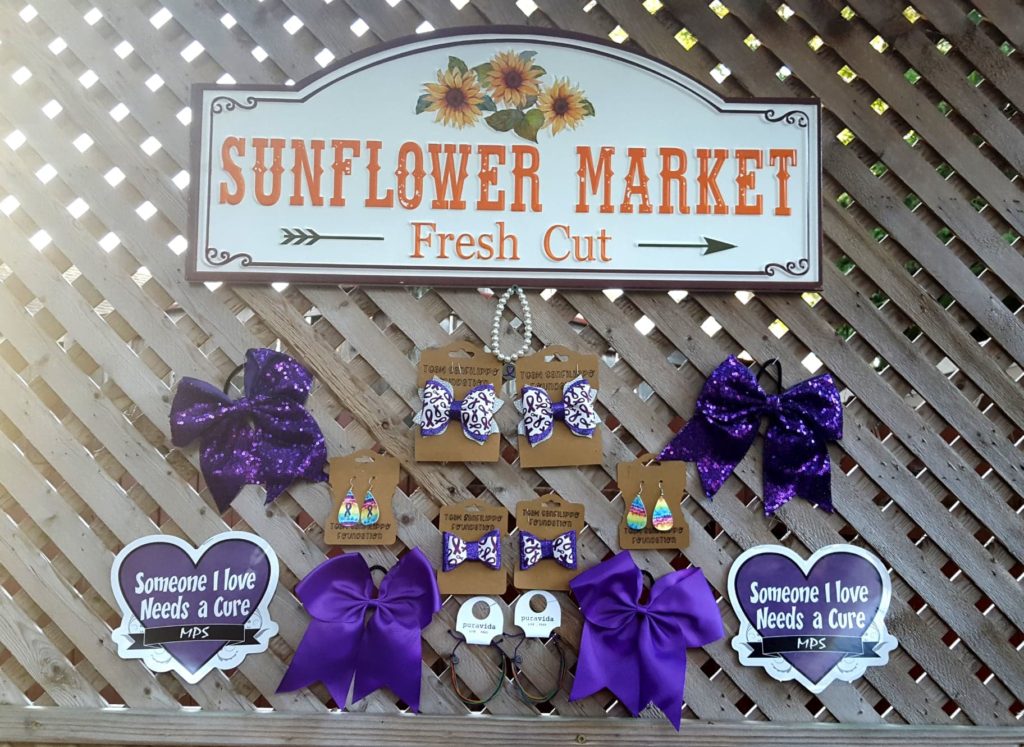 Please email Danielle at lieuslady@yahoo.com for questions any of the merchandise
A Very Merry Christmas / Winter holiday, Supporting TSF INC!
We're offering these bags for a short time (Nov 6, 2020) so you can get them before the holiday ! Click here to view and order !
https://www.customink.com/fundraising/team-sanfilippo-christmas-2020-tote?utm_source=facebook&utm_campaign=desktop-campaign-page-share&utm_medium=social&ref=facebook_social_desktop-campaign-page-share&utm_content=team-sanfilippo-christmas-2020-tote&fbclid=IwAR1St9mhPuOMY4-hg6z64nHKVe-M53NopRIS0tn8dhy7d3ngytNLHMmoZf8
November 11, 2019 – Faces of Sanfilippo 2020 Calendar
This year we decided to make a calendar featuring Sanfilippo children and adults from all around the world. We are pleased to say the project is complete. You can view a preview of the calendar at the link below and order one of two sizes and it will ship directly to you. The company does international shipping as well. We'd like to Thank the following sponsors for working with us to make this project possible. There are 7 pages not viewable in the previews online, but there are sponsor pages and more pics of the beautiful children.
Abeona Therapeutics, DNA Check – Up, Isabelle Juardo Foundation, Lysosomal and Rare Disease Research Treatment Center, National MPS Society, Peer to Peer, Prevention Genetics, Sanfilippo Hope Initiative, Seelos Therapeutics, and Spinning Wheels Productions!!
https://www.createphotocalendars.com/Shop/tsfincteamsanfilippofoundation

_______________________________________________________________
Saturday October 5th, 2019 – Sanfilippo Smash IV (Demolition Derby)
Ostego County Fairgrounds, Morris, NY
In honor of Martin Gulley and memory of Mea Stoecklin. This year will feature 400 + cars as the event grows and grows!
https://www.thedailystar.com/news/local_news/derby-driver-g-mu-team-up-vs-childhood-disease/article_58994302-5977-5aef-8e9e-f3e2b4b341dd.html Check out the local press this year! Hope you are able to attend !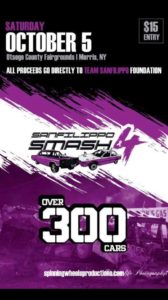 ____________________________________________________________________

Gene Therapy
Abeona Therapeutics
Clinical programs in MPS IIIA are partially supported by a $4,000,000 grant from Team Sanfilippo. Read the press release. https://investors.abeonatherapeutics.com/press-releases/detail/102/abeona-announces-13-85m-grant-from-leading-sanfilippo
Abeona is enrolling patients in two ongoing clinical trials studying one-time gene therapies for MPS IIIA and MPS IIIB, and planning a third study for MPS IIIA. The first of the three is known as The Transpher A Study. It is enrolling eligible children 6 months – 2 years of age or children 2+ years with a cognitive development quotient 60. The company is seeking to enroll younger, higher-functioning patients into the study.
The Transpher A Study https://www.mpstransphera.com/index.html uses a single intravenous infusion of an adeno-associated virus serotype 9 (AAV9)-based vector to deliver gene therapy ABO-102 for correction of enzymatic defect in MPS IIIA. Study data for a total of 14 treated patients with MPS IIIA followed for 2+ years (mean follow up of 19 months) showed rapid and sustained reduction of heparan sulfate (the enzyme substrate) levels in the cerebrospinal fluid, plasma and urine and reduction of liver volume to near normal size. There have been no treatment-related serious adverse events reported to date, and investigators have observed encouraging neurocognitive signals in younger, higher functioning patients enrolled in the higher dose of Cohort 3.
The best way to determine if your child may be eligible for one of these studies is to take a 6-question survey at AbeonaTrials.com. https://www.mpstransphera.com/index.html#s3 If the survey indicates your child may be eligible to enroll, you have the option of having the information sent to the nearest study site for evaluation by a study investigator. If you agree to share the survey results, the study site will then contact you for more information. Survey results can also be downloaded to share with your child's physician. Abeona does not have access to any patient information that is shared in this process. If your child is enrolled in the study, reasonable costs of travel and meals needed by you and your child will be reimbursed, and there is no cost to you or your family to participate in the study. If you think your child may be eligible or if you have questions about the study, email patients@abeonatherapeutics.com. You can also consult this FAQ https://www.mpstransphera.com/faq.htmlor visit Clinicaltrials.gov. https://clinicaltrials.gov/ct2/show/NCT02716246?term=abeona&rank=2
Similarly, the Transpher B Study uses a single intravenous infusion of an AAV9-based vector to deliver gene therapy ABO-101 for correction of enzymatic defect in MPS IIIB. Dosing of the first cohort of the study was recently completed based on a favorable product safety profile and clear evidence of biological activity observed to date. The first patient in the second cohort has been treated and the study continues to enroll eligible subjects. Read the press release https://investors.abeonatherapeutics.com/press-releases/detail/155/abeona-therapeutics-treats-first-patient-in-second-cohort and visit Clinicaltrials.gov https://clinicaltrials.gov/ct2/show/NCT03315182?term=abeona&rank=1 for more details.
The third study, known as ABT-003, will enroll children who are not eligible for the Transpher A Study. It is expected to begin in the fall of 2019 and will take place at study sites in the US and Europe. Additional details about the study, including enrollment criteria and site locations will be made available when the first site is initiated. If you think your child may be eligible or if you have questions about the study, email patients@abeonatherapeutics.com
____________________________________________
October 6, 2018 – Sanfilippo Smash III – Ostego County Fairgrounds , 469 Mill Street in Morris, NY
Vehicle inspections start at 7am, the event begins at noon and could last till midnight! Lots of fun,
prizes, giveaways, kid friendly!! only $10 admission fee, free to enter a car! Check out the video/ news clip! https://wbng.com/around-the-tiers/2018/10/01/spinning-wheels-productions-holding-sanfilippo-smash-iii/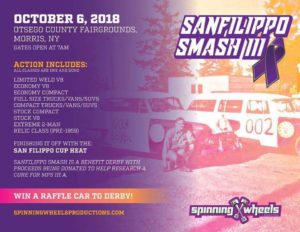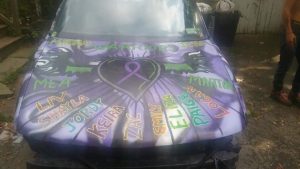 56 names of sanfilippo on this car this year!!
____________________________________________________
March 12, 2018 – Chefs Unite to Save Mickey and Cure Sanfilippo
Deerfield @ 507 Thompson Station Rd. Newark, DE 19711
Please join us for a night of delicious food, fantastic wine, and great company for a great cause! We will be supporting the Team Sanfilippo Foundation's efforts to find a cure for all of the children afflicted with Sanfilippo Syndrome, also known as MPS-III, a rare and fatal genetic disorder. Mickey Merrill was diagnosed with the disease, often referred to as Childhood Alzheimer's, just last summer.
In addition to a very special meal from some of the Delaware Valley's best chefs, we will feature the first ever-public screening of "The Weight of a Mountain", a short documentary about Sanfilippo Syndrome. Produced by Dan Salvo of DP Studios, the film features Carl Kapes, a fellow Delaware father whose children Ryan and Brayden also suffer from Sanfilippo Sydrome. Please view the film's trailer below.
For ticket info and menu and trailer of documentary click here > https://savemickey.ticketspice.com/savemickey
________________________________________________________________________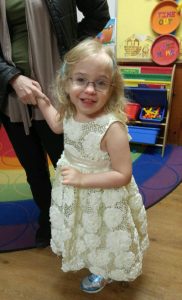 UPDATE : 12/11/ 17 Newark Delaware Chef raises awareness for Sanfilippo and his daughter Michaela, aka"Mickey"
What an awesome response to Merrill family for support for Mickey! I encourage you read this article about the 2 events that her family had to help further treatments and a REAL HOPE for Mickey and others!
http://www.delawareonline.com/story/entertainment/2017/12/08/after-terminal-diagnosis-delaware-musicians-chefs-rally-behind-newark-girl/922525001/
Thank you to all who supported these events!!
__________________________________________________
Dec 4, 2017 check out the link here and the article below.
The menu looks fabulous!! Don't miss out!
https://savemickey.ticketspice.com/chefs-unite-to-save-mickey-and-cure-sanfilippo-syndrome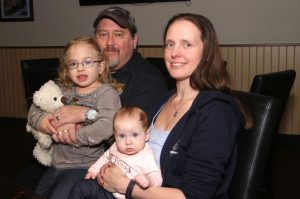 http://www.newarkpostonline.com/news/article_0cd63828-c2bb-11e7-b9cb-ebc7b6c2c53d.html
_____________________________________________________________________
Saturday August 12, 2017 – Bowling, Raffles, Auctions, Baked goods, door prizes and fun !!!
Come to Michigan for a good time! Event being held at Mayville Lanes, 429 E. Main Street, Mayville, MI 48744
call 989-843-6971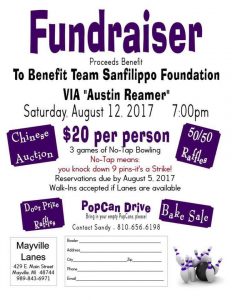 March 5, 2017 – Team Sanfilippo has a new shirt!!!! Money goes straight to Team Sanfilippo and then into helping fund treatments for Sanfilippo children of all ages and stages of the illness. Please consider buying a shirt today!! We have 2 studies going on now a clinical trial happening in about 30-45 days and hopefully another trial later this Fall! All funds from this go towards helping with trials and studies.
______________________________________________________________________________________________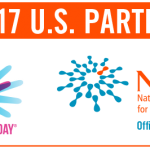 Raise awareness in the month of February as we make February 28, 2017 – Rare Disease Awareness day. So many way to share about someone you care about that is RARE! http://rarediseaseday.us/wp-content/uploads/2017/01/nord-rddus-2017-final-presentation.pdf
_______________________________________________________________________________________________________________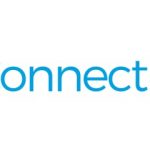 MPS III / Sanfiliippo families, please when you get a chance, log into your patient profile on https://connect.patientcrossroads.org/?org=ConnectMPS and complete the new survey. This is a screen shot of where you need to be to complete the surveys. On the left side column- if you have an orange explanation mark next to the survey, then that's the one to be completed. Also notice that there is a place for you to upload medical reports. The registry is for all MPS, ML and glycoproteins. However the newest survey that went out is for MPSIII patients. Note all data is de-identified and this new survey was written by BioMarin.
______________________________________________________________________________________________
Slowly we watch them lose what once made them https://www.thelionsroaratpsu.org/home/sanfilippo/
The story is one that many parents who have gone before us have done as well, only to see their children pass on because time is critical in funding for treatments that have been on the horizon for a few years now! Carl's youngest may have qualified just one before, now things are questionable because of delay in the initial trial. His heart is wrenched, as here's a man who has physically and emotionally done all one can do, not depending on others all the time to raise the money! He was proactive and still is though heart broken . Take time to read the story if you will. The truth is here for most of us. TSF is continually working towards cures and treatments for quality of life, as that is what most us have to live with.. Quality of life!! Please share his story and donate what you can! Be blessed and Thank you!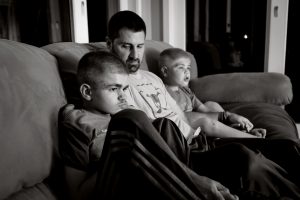 _____________________________________________________________________________________________________
Sunday October 9, 2016 1pm
Ostego County Fairgrounds, Morris NY
The Sanfilippo Smash is a charity event held in honor of Martin Gulley and Mea Stokelin . Both have Sanfilippo Syndrome, we hope to make this an annual event. We are hoping to not only be able to give a donation to Team Sanfilippo Foundation which will go directly to the research of Sanfilippo Syndrome but, hopefully one day be able to say our son HAD MPS3. There will be 2 raffle cars that are being built and they will go towards helping with some of the medical expenses that are being incurred by both Martin and Mea's families. Any Donations made can be made to the families directly or to directly thru this website to Team Sanfilippo please, put in the note "Sanfilippo Smash", Thank you! You can follow Martin at https://www.facebook.com/RidewithMart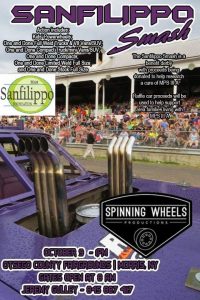 ____________________________________________________________________________________
Saturday May 28, 2016– Running Santana Running for a Cure, 371 Marathons, 88 Ultra Marathons
Nanny Goat 24 Hour Trail – Riverside, CA USA
In the demonstration that the run rises always the hearts and enlighten us for solidarity, our great friend Raul Santana fine marathon runner and ultra-marathon runner, shall comply with this ultra-marathon tomorrow Saturday 28 may with a special purpose: raise awareness about the Existence of the apocalyptic suffers from a rare disease that my daughter, as well as so many other children in his condition, Sanfilippo Syndrome.
This is a disease that is presented in a statistic of 1:80.000 births and being genetics, begins his evidence generally from the age of 4 years, gradually stealing all his skills, (talking, eating, walking… Breathe), Less his unwavering desire to live.
Raul Santana bet in this ultra marathon not only to meet the highest mileage possible, but to work together to make a cure a reality.
The symbol of the nanny goat immaculate is a reflection of the power of innocence and the love of God that can never leave without protection for these children and their families. Thanks Raul Santana!!!!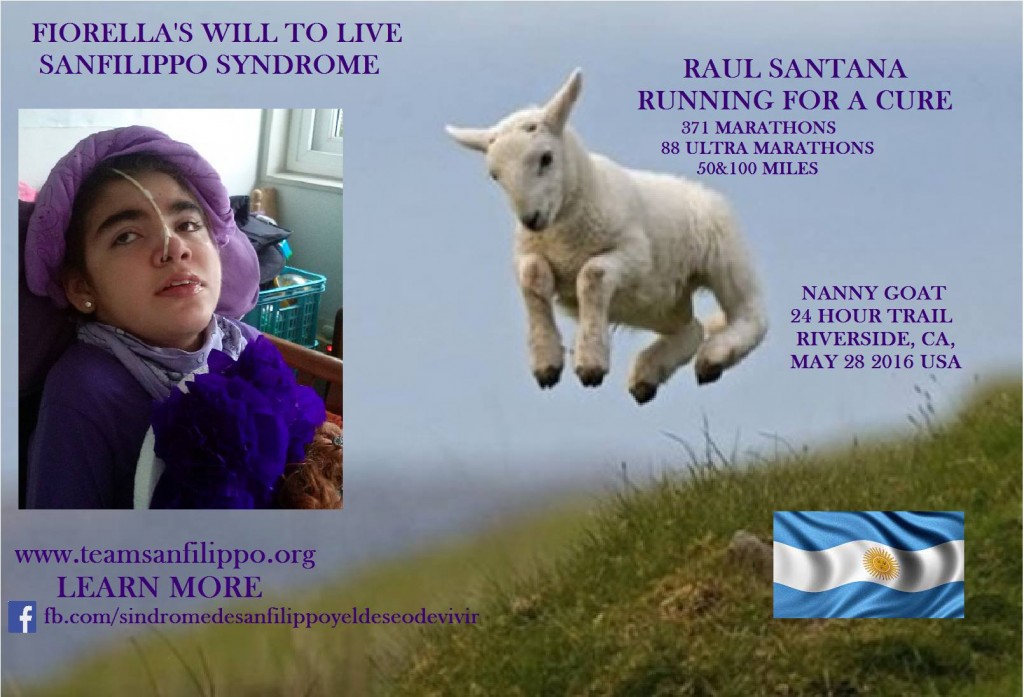 ______________________________________________________________________________
Sunday April 3, 2016- 2nd Annual Ride for Sanfilippo!
10 am – 4 pm in Delaware! https://www.facebook.com/events/1761879474089193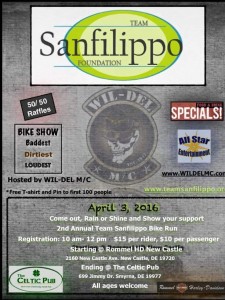 _______________________________________________________________________________
September 15 – 30, 2015
CANS ACROSS AMERICA FOR SANFILIPPO SYNDROME!
If you'd like an easy to do fundraiser to help provide funding for the approved gene therapy drug to be made for our kids who are younger, and also to help families if needed, get to and from the clinic location, this is an easy fundraiser anyone can do! It will take approx. 250K per child to receive the drug. That is a lot of money to raise, drug companies are not helping with this funding until after the trials are complete in our children and they see results. So please help, as every dollar counts!
All you need is an empty coffee can or similar can that you tape a label around that is 8.5″ x 14″, then talk to a local business you frequent often, your workplace reception desk or cafeteria, school office etc.. the places are only limited by your imagination. Ask the manager or owner to kindly keep an eye on the can and you stop in weekly to pick up the donations.
We are trying this for two weeks, but, if business owners or whoever have no issue with leaving the can for longer that is wonderful. Please combine all funds into one check and send to
Team Sanfilippo Foundation,
PO Box 1152
Ronkonkoma, NY 11779
People can also write a check for the can if they wish to donate larger amounts vs just their change. One business we used a while back actually used the can to trade in their paper dollars to get change for their register at times. So it can help a business as well in the respect for convenience. Here are links to the labels, the black and white one is actually of 3 of the Sanfilippo children back in June, the other pic is a random color of children of playing.
/wp-content/uploads/2015/08/cans-across-bw.pdf. < Black and white label
/wp-content/uploads/2015/08/cans-across-color.pdf < Color label
---
Gourmet Popcorn Campaign!
August 3 – 23, 2015
Popcorn for Cure! 40% of your purchase of this awesome popcorn goes to Team Sanfilippo towards Gene Therapy and helping families to get thru it!
Check out the awesome selection! Flavors for you, your friends and family as gifts, an office party, baby shower, or any gathering where snacks and food are needed! Bring something unique and tasty!
https://www.supportyours.org/store/teamsanfilippo/sort/all < please copy and paste the link, for reason links are not working today! Thanks so much, every purchase matters!
---
May 8, 2015 – Guest Bartending Night 6pm -9pm Stay late for live music!!
Kelly's Logan House
Wilmington, DE 19806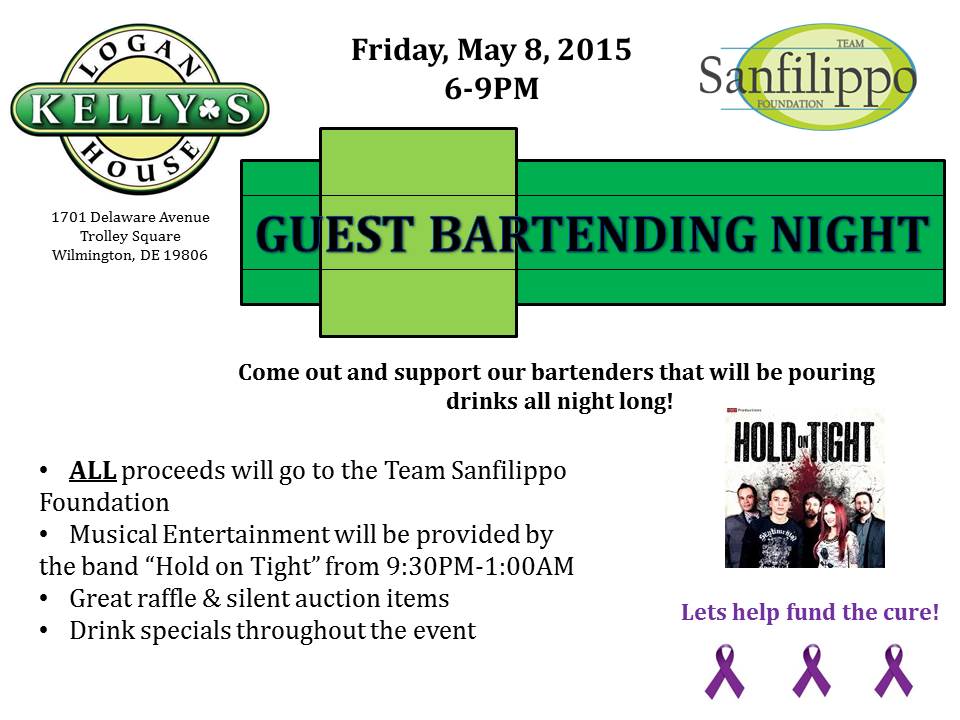 ---
Sunday April 12, 2105- 1st Annual Bike Run!
Newport, Delaware > see flyer for details or FB page https://www.facebook.com/events/775569605824106/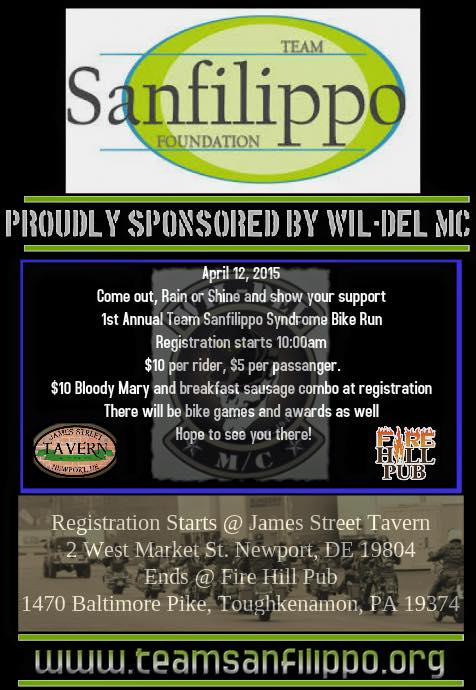 ---
Collect Old Shoes, Fund Gene Therapy!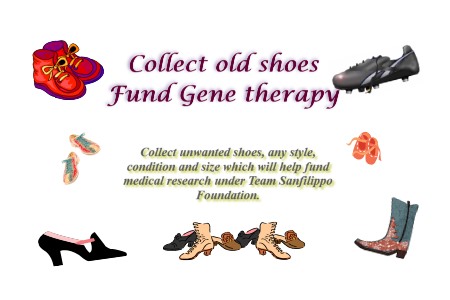 Sat Aug 09, 2014 – Mon Sep 22, 2014
FUNDRAISING GOAL: 7,500 pairs of shoes = $3,000*
This money will be used to fund medical research, and clinical genetic trials scheduled to start in March 2015.
*Shoes are shipped to under-developed countries, where they are recycle via funds2org.com.
To see how you can help, click here > http://www.volunteermatch.org/search/opp1749366.jsp this one is easy, anyone can do it!!
---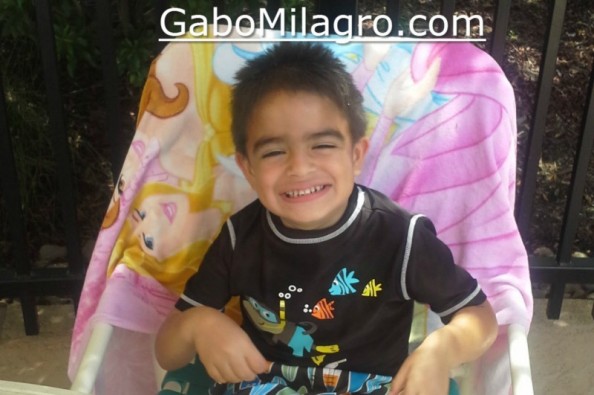 Gabo's Story

Our beloved son Gabo was born on February 14, 2010, the most amazing Valentine's gift ever, and the answer to our prayers to complete our family. His first year's development was normal. However, at 16 months, we noticed he had lost the few words he had acquired up to that point and his overall communication skills had declined. Our search for answers started and the first diagnosis we received was Autism.
While doing some research about potential stem cell treatments for Autism, we visited a Geneticist during the summer of 2013. Additional tests were performed on Gabo, including metabolic testing and genetic sequencing, he received the official diagnosis of "Sanfilippo Syndrome Type A". Read more here… http://www.gofundme.com/GaboMilagro
---
National Rare Disease Day February 28th!
Jonny -Lee Miler of "Elementary" advocates for Sanfilippo. CBS did an excellent interview.
http://newyork.cbslocal.com/2014/02/26/elementary-star-jonny-lee-miller-works-to-solve-sanfilippo-syndrome/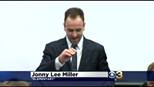 ---
Bravelets™ bracelets are worn to help you be strong and brave in tough situations.
You can now have $10 of any single purchase of these beautiful pieces of jewelry go to help Sanfilippo
Check out some of the selections, these are just two them pictured here. They make wonderful gifts as well.
https://bravelets.com/bravepage/sanfilippo-syndrome
Bravelets™ bracelets are worn to help you be strong and brave in tough situations. Therefore, Bravelets™ and triangles are a perfect pair. The triangle is incorporated not only in the Bravelets logo, but also in every item's single design. Plain and simple, the triangle represents strength, just like Bravelets