TSF Inc. is a registered 501(c)3 Tax ID # 46-4027239
November 16, 2018 – Latest trial updates, please click on the document link ! TSF Trial doc nov 2018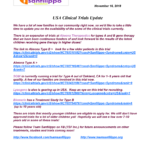 Sanfilippo Patient Registry
Hope and Treatment are knocking and the Sanfilippo Registry Project is answering!
To help move research at its fastest pace and ease the burden on families, this registry was developed. This registry will centralize a comprehensive database of individuals with Sanfilippo Syndrome – ALL types. It will allow researchers and companies to better understand the progression of the disease and provide a pool of candidates for pending clinical trials in ONE location accessible by MANY researchers and companies. NOT controlled by any one institution or company!
Learn more and register here https://connect.patientcrossroads.org/?org=SanfilippoRegistry
Upcoming treatments for Sanfilippo Syndrome
Enzyme replacement therapy
Hematopoietic stem cell transplantation
Gene therapy
Small molecules (substrate reduction therapy, susbraste optimization therapy, chaperones)
Of those, phase I / II clinical trials are underway for enzyme replacement therapy (clinicaltrials.gov > Shire: Extension of Study HGT-SAN-055 Evaluating Administration of rhHNS in Patients With Sanfilippo Syndrome Type A (MPS IIIA) https://clinicaltrials.gov/ct2/show/NCT01299727?term=NCT01299727&rank=1 <Shire in early 2017 halted this trial for type A. Many families were let down, and or just completed for gene therapy (clinicaltrials.gov > Lysogene: Intracerebral Gene Therapy for Sanfilippo Type A Syndrome https://clinicaltrials.gov/ct2/show/NCT01474343?term=NCT01474343&rank=1
Abeona: Dec, 2017 – Expanded Trials :
Gene Therapy:
Abeona Therapeutics:
Team Sanfilippo grants $4,000,000 to open Phase 1B for three classes of patients; Children older than 7, children with AAV9 antibodies, and children previously treated with ert.
https://finance.yahoo.com/news/abeona-announces-13-85m-grant-122705356.html
"Abeona is pleased to continue our global collaboration with the Sanfilippo foundations to help further advance our gene therapy programs for MPS III disease," said Timothy J. Miller, Ph.D., president and chief executive officer of Abeona Therapeutics. "The effort and expertise that we continue to commit to the ABO-102 and ABO-101 programs puts us in a strong position to further extend the important progress reported to date. We are grateful to the foundations for their ongoing commitment to identifying and facilitating the development of clinical innovation to treat patients with MPS III disease."
__________________________________________________________________
Gene Therapy Type A – October 18, 2016- About ABO-102 (AAV-SGSH): ABO-102, the company's first-in-human, intravenously-administered AAV gene therapy, has been well tolerated through 30-day post injection in subjects injected with the low-dose (n=3). Encouraging signs of early biopotency have been observed in urinary and CSF GAG (glycosaminoglycan, specifically, heparan sulfate) measurements, as well as potential disease-modifying effects in the liver and spleen. The clinical study is supported by neurocognitive evaluations, biochemical assessments and MRI data generated in a 25-subject MPS III natural history study, also conducted at Nationwide Children's Hospital, where patients were evaluated for disease progression over one-year of follow up assessments. ABO-102 is an adeno- associated viral (AAV)-based gene therapy for patients with MPS IIIA (Sanfilippo syndrome), that is delivered as a one-time intravenous injection. ABO-102 delivers a functioning version of the SGSH gene to cells of the central nervous system (CNS) and other organs with the goal of correcting the underlying deficits caused by the inborn genetic errors that are the cause the disease. Read more here> http://phoenix.corporate-ir.net/phoenix.zhtml?c=63510&p=irol-newsArticle&ID=2212496
Gene therapy type A and B > January 11, 2016: Abeona Therapeutics Announces Initial European Regulatory Approvals for Phase 1/2 Gene Therapy Clinical Studies for Patients With Sanfilippo Syndromes Type A (MPS IIIA) and Type B (MPS IIIB) http://abeonatherapeutics.com/research-and-development/
Abeona is developing next generation adeno-associated viral (AAV)-based gene therapies for MPS III (Sanfilippo syndrome), which involves a one-time delivery of a normal copy of the defective gene to cells of the central nervous system with the aim of reversing the effects of the genetic errors that cause the disease.
After a single dose in Sanfilippo preclinical models, ABO-101 and ABO-102 induced cells in the CNS and peripheral organs to produce the missing enzymes and help repair damage caused to the cells. Preclinical in vivo efficacy studies in Sanfilippo syndrome have demonstrated functional benefits that remain for months after treatment. A single dose of AB0-101 or AB0-102 significantly restored normal cell and organ function, corrected cognitive defects that remained months after drug administration, increased neuromuscular control and increased the lifespan of animals with MPS III over 100% one year after treatment compared to untreated control animals. These results are consistent with studies from several laboratories suggesting AAV treatment could potentially benefit patients with for Sanfilippo Syndrome Type A and B, respectively. In addition, safety studies conducted in animal models of Sanfilippo syndromes have demonstrated that delivery of AB0-101 or AB0-102 are well tolerated with minimal side effects.
Alexion Pharmaceuticals – SBC-103 (rhNAGLU enzyme) Shows a 26.2 Percent Mean Reduction in Heparan Sulfate in Cerebrospinal Fluid at the Highest Dose Studied in Patients with Mucopolysaccharidosis IIIB (MPS IIIB) in Phase 1/2 Study at Six Months < July 2017, claims of not good efficacy and trials ended. Parents say differently :-( Statement from Alexion below July 18, 2017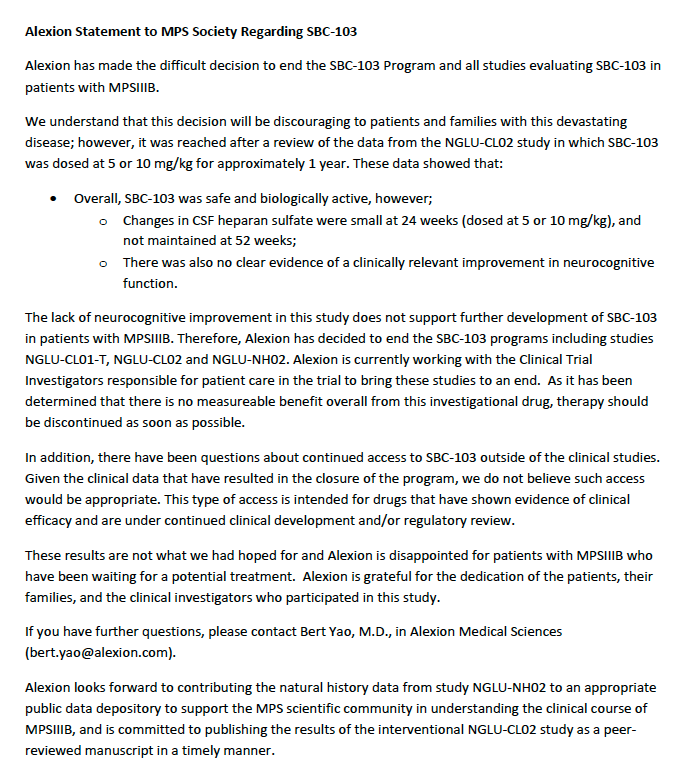 http://www.businesswire.com/news/home/20160301006917/en/SBC-103-rhNAGLU-enzyme-Shows-26.2-Percent-Reduction
Biomarin: A Study of Mucopolysaccharidosis Type IIIB (MPS IIIB) > currently recruiting in several countries.
BioMarin MPS IIIB (Sanfilippo B syndrome) Study Information for Families and Patient Groups
September 2015
BioMarin has recently started a programme for children with MPS IIIB (Sanfilippo B syndrome). This will involve multiple centres around the world. The program will enrol children between the age of 1 and 10 years who qualify, although the majority of children will be under 6 years old. The program consists of two studies.
The first study is an observational study of children with MPSIIIB and includes testing of cognitive and adaptive function, as well as assessments of behaviour and quality of life. This study is intended to provide baseline information to help in determining whether these children subsequently benefit from treatment in the next phase of the programme. This observational study is now open.
In the near future, BioMarin plans to start the second study. The second study will be a treatment study in which children will receive an investigational enzyme replacement therapy. This will be provided as an infusion via a port which delivers the enzyme into the brain. This study will be run at the same centres as the observational study. The first phase of this study will enroll a small number of patients in early 2016 to assess safety at several doses. The second phase of this study is targeted to start in mid-2016. In order to enroll in the second phase of the treatment study the child must have completed the observational study or the first part of the treatment study. The intention is to provide treatment to all of the children who have entered into the observational study.
Enrolment in this program will be limited to children from countries in which there is a study site. Please visit www.clinicaltrials.gov for more details.
https://www.clinicaltrials.gov/ct2/show/NCT02493998?term=biomarin+sanfilippo&rank=1 Study for ERT (enzyme replacement trials.)
Substrate Reduction Therapy
Genistein: Genistein in Sanfilippo disease: a randomized controlled crossover trial > http://www.ncbi.nlm.nih.gov/pubmed/22275257
Miglustat/Zavesca:Sanfilippo and glycosphingolipids > https://www.researchgate.net/publication/16772059 Abnormalities of glycosphingolipids in mucopolysaccharidosis type III B.
Miglustat/Zavesca:substrate reduction therapy for glycosphingolipid storage disorders http://www.futuremedicine.com/doi/abs/10.2217/14750708.2.4.569?journalCode=thy
N-butyldeoxynojirimycin (Miglustat) treatment restores the innate fear response and improves learning in mucopolysaccharidosis IIIA mice http://www.ncbi.nlm.nih.gov/m/pubmed/27106513/
Stem Cell Transplant: The published experience to date with HSCT for children with Sanfilippo Syndrome / MPS
III shows that all have experienced progressive deterioration in their neurodevelopmental status despite
"successful" HSCT performed in a timely manner. While HSCT is occasionally performed on MPS III
individuals, there is no published evidence that any form of HSCT has been successful in preventing
this decline.
_________________________________________________________________________
Potential therapies to help in situations caused by Sanfilippo Syndrome
Nuedexta – a prescription used to treat outburst of involuntary laughing or crying in people with certain neurological disorders. As always drugs should be monitored by a licensed physician. This drug has benefited many Sanfilippo children when no other source of pain or reason could be found to cause the weeping and crying continuously. It has only been approved for adults, but many families have been able to get this approved for the child for the past several now. These families have not seen ant notable side effects thus far.
Coq10 – Coq10 may be useful in helping decrease Gags in some Sanfillippo children and possibly increase enzyme level in others. Antioxidants do help main cell structure of the lysosome. http://www.ncbi.nlm.nih.gov/pubmed/24347096 file:///C:/Users/Owner/Downloads/2013-CoQ%20Sanfilippo.pdf
Trehalose – is a possible help for reducing GAGs thru autophagy, first article here on autophagy http://www.ncbi.nlm.nih.gov/pubmed/17913701, next article on Trehalose http://www.ncbi.nlm.nih.gov/pubmed/27236019 we have found with several Sanfilippo children that trehalose in the high dosage needed to be effective can result in loose bowels. One way we have found to make trehalose more effective and if done slowly and increased very slowly over time, you can use the substrate reduction therapy Zavesca/ Miglustat 3 hours prior to giving Trehalose. The miglustat is a Trehalase inhibitor and helps to correct the bowels somewhat. The trehalose is not for everyone, but if your child will tolerate it orally, it can be of great benefit. It is OTC and not prescription. Zavesca is a prescription drug and does take authorization to acquire. We are currently trying to set up trial to administer this in a more effective way.
Pentosan Polysulfate – Inflammation and possible GAG reduction http://www.ncbi.nlm.nih.gov/pubmed/27064989
Tian Ma / Gastrodia Elata (Chinese herbs) – This herb is known to help with seizure activity. http://www.ncbi.nlm.nih.gov/pubmed/27188468
Tian Ma Uncaria formulas (Chinese medicine) – exert strong anti-inflammatory effect by inhibiting the production of cytokines, chemokines, and proteases in neuronal cells. In addition to the anti-inflammatory effect, they also exert strong antioxidative and antiapoptotic effects by reducing the generation of ROS, resulting in the reduction of necrosis and apoptosis of the neuronal cells. In turn slow down the progression of disease http://www.ncbi.nlm.nih.gov/pmc/articles/PMC3851952/
Tian Ma Gou Teng Yin – Neuro protective for Parkinson's disease, used by several Sanfilippo children http://www.ncbi.nlm.nih.gov/pmc/articles/PMC4649620/
Polygalae Radix-Acori Tatarinowii Rhizome, Concha Ostreae-Os Draconis – used in hyperactivity on many children – http://www.ncbi.nlm.nih.gov/pubmed/26226768
Chinese medicine has a lot to offer in balancing and clearing systems to work more appropriately than some drugs we typically use. It's just a matter of fine tuning them while working with a good Doctor of Chinese medicine to assist in the process. Things such as liver and spleen issues, pancreatic function and more can be helped thru traditional Chinese medicine.
Here is a wonderful site to learn more about the effects the organs have on everyday life. For Sanfilippo Syndrome we are especially concerned about the Liver and Spleen issues. http://www.itmonline.org/5organs/5organs.htm
**We have provided all information on our website for educational purposes only. Medical information obtained from our website is not intended as a substitute for professional care and should not be considered as such. You should consult a healthcare provider before making adjustments to your healthcare, lifestyle and/or diet. Also, do not remove yourself from any of your prescribed medications or treatments without consulting your physician. As with all medical treatments, treatment responses can vary from patient to patient, even if the diagnosis is similar.
Prepared by Patty Taormino for use by Team Sanfilippo Foundation