July 17, 2021 – Ryders Ride, Iron Freedom MC, Skagit Chapter
Burlington, WA and riding to Sedro Wolley
https://www.facebook.com/IFMCSkagitChapter < See info on flyer and web link :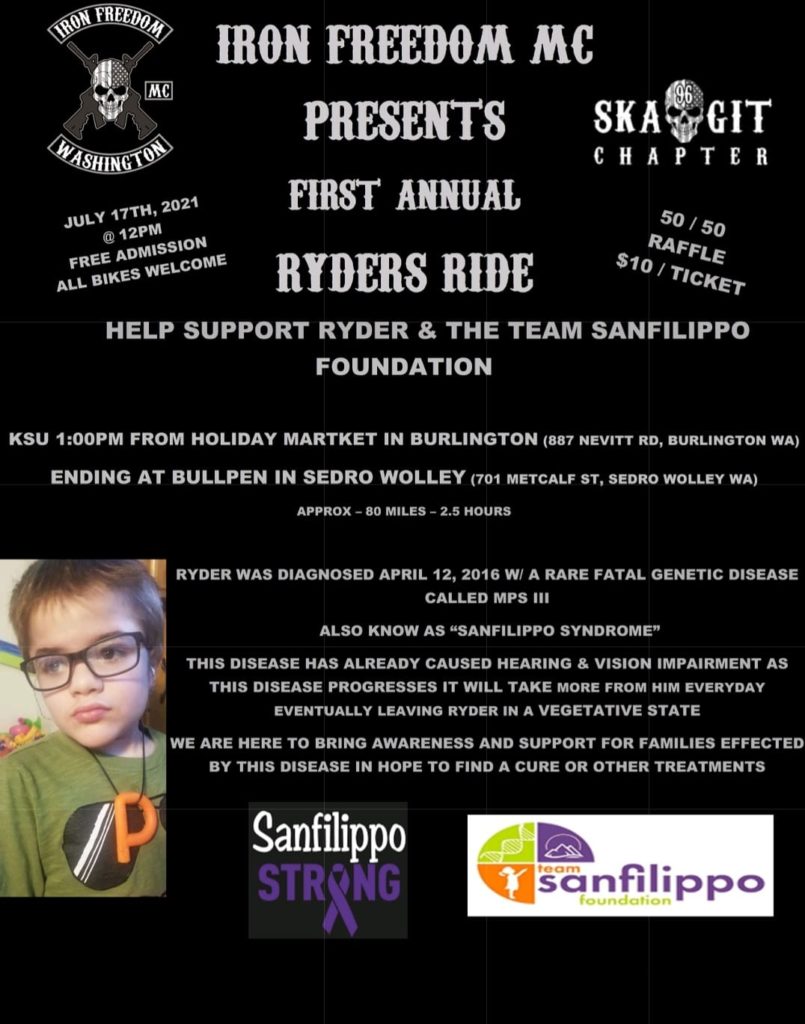 ---
July 30, 2021 Yard Sale, Bake Sale, Lemonade Stand – 9AM – 3 PM
Pentacostal Church , 9722 KY 15, Jeremiah, KY 41826
Conatct Brandi at 606-636-0950 to contibute in any way: See flyer for details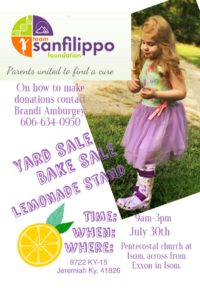 ---
October 9, 2016 1pm
Ostego County Fairgrounds, Morris, NY
The Sanfilippo Smash is a charity event held in honor of Martin Gulley and Mea Stokelin . Both have Sanfilippo Syndrome, we hope to make this an annual event. We are hoping to not only be able to give a donation to Team Sanfilippo Foundation which will go directly to the research of Sanfilippo Syndrome but, hopefully one day be able to say our son HAD MPS3. There will be 2 raffle cars that are being built and they will go towards helping with some of the medical expenses that are being incurred by both Martin and Mea's families. Any Donations made can be made to the families directly or to directly thru this website to Team Sanfilippo please, put in the note "Sanfilippo Smash", Thank you! You can follow Martin at https://www.facebook.com/RidewithMart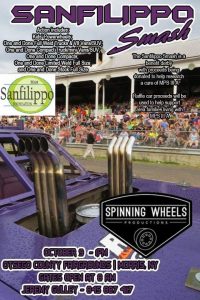 Saturday, September 24 at 11:28 AM – 7th Annual Beat MPS Golf Scramble
18 Golf Course Rd
Sugarloaf, PA 18249 http://www.sugarloafgolfclub.com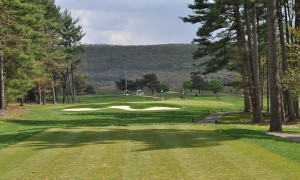 4-man Golf Scramble. Shot-gun start at 11:28am. Dinner is included and will follow the event. Silent auction and putting contest throughout the day. Plenty of on-course events. Friday night BEER garden and Skins event. The event is always a success and a good time with beautiful fall weather in PA.
Contact Carl Kapes for more event information at the even page on FB https://www.facebook.com/events/1273380772723686
______________________________________________________________________________
September 24, 2016 – Team Payton MPS Benefit
EZ Campgrounds 2-10 pm
14338 Townline Kossuth Rd.,
Saint Marys, OH 45885 http://ezcampground.synthasite.com/
For more info. Contact Tiffani, Patty or David at numbers listed top left of flyer! Lot of fun for everyone! This event is going to be awesome. Get your campers out and come for the weekend! The silent auctions, entertainment, raffles, dancing and so much more!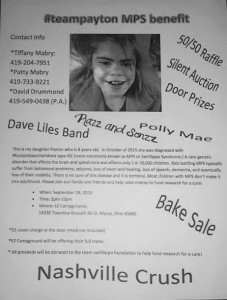 ____________________________________________________________________________________________________
Sunday April 3, 2016 – 2nd Annual Ride for Team Sanfilippo in Delaware!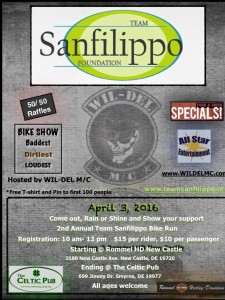 2nd Annual Team Sanfilippo Motorcycle Ride. Please share and get your family and friends out for a day of Food, Fun and Great People. See you there!!! April 3, 2016 Start Rommels Harley Davidson New Castle. End Celtic Pub in Smyrna
https://www.facebook.com/events/1761879474089193/
______________________________________________________________________________________________________
Team Sanfilippo is selling wine glasses and Tree Ornaments this year as a holiday fundraiser ! These would make excellent gifts for family and friends or just for yourself!
The wine glasses are as seen in the pictures, One glass is $20.00 each or you can purchase 2 glasses for $30.00. The stems are actually purple. There are two sepreate logos on them, "MPS SUX" and the other glass, "Been an MPS kind of day" You can mix and match if ordering two.
The ornament can be customized with an MPS child's name or we can customize for an MPS "Angel", with gold ribbon and gold halo around the first letter of the first name for your angel. We also are offering the ornament for super siblings , there will be a small "SS" near the top but basically the same as the ones for the MPS kids. These are $10.00 each.
You can email Danielle @ lieuslady@yahoo.com with your order, please be precise on your order and provide shipping address and any details, along with your contact info for her to contact you with any questions pertaining to the order. All orders will be shipped once payment is made. You can pay thru the "Donate" paypal or CC connection on the website here if you want immediate shipment. Be sure to reference the same name as your order in the payment.
Shipping is included on the prices!
---
The latest Fundraiser is a "POPOCORN CAMPAIGN".
Gourmet popcorn for you or friends as gifts, company party treats!
Easy as 1-2-3, 40% of the sales from the popcorn will go to helping the kids thru the gene therapy trials.
All you need to do is create a login, pick your popcorn flavors and proceedto check out! The company ships direct to you while 40% of your purchase goes to Team Sanfilippo. All funds will be used towards the Gene Therapy! Happy Shopping and please share with your friends!
https://www.supportyours.org/store/teamsanfilippo/sort/all
UPDATE: August 26, 2015 – We just want to thank everyone who purchased popcorn, or even promoted the fundraiser for others to buy! TSF broke the record on this popcorn fundraiser over any other organization who has done it, so the company told us. If you noticed the red thermometer on the home page for the orders, we blew it up so to speak. :-) Even though this is not a high dollar fundraiser, it still brought in just over $4,000 and that's not bad for not really having to organize or do much other than share and order. Thank you so much, every dollar does help and we are moving forward to getting children set up in these trials.
---
A Do-It-Yourself (DIY) fundraising event is a fun and easy way to raise awareness for Sanfilippo Syndrome and make a difference.
We make it easy for you with ideas and materials to download from our website to tailor to your event. Our fundraising team will be there every step of the way and will help you have a successful event.
Whether raffles, dinner parties, car washes, runs or concerts, fundraising events not only help bring in donations, they're also a fun way to raise awareness and education for Sanfilippo Syndrome.
Enjoy the outdoors with a:
Walk or run
Motorcycle or bicycle ride
Nature Hikes (choose good weather months for these activities)
Party with a theme and host a:
Concert or performance
Dinner and a movie night
Barbecue or wine & cheese party
Have fun in your own neighborhood with a:
Bake sale or car wash, even a dog wash
Yard sale, garage sale, penny drive or loose change drive
Place Cans Across America in your school and local businesses:
Channel your inner athlete and host a:
Tournament — bowling, golf, tennis
"A-thon" — dance-a-thon, basketball-a-thon
To discuss an idea or need help with fund raising tools email Kathy @ kbuckley12866@gmail.com , or contact us.