Hello I'm
Jennifer Gilhuis
My goal is to raise $
100.00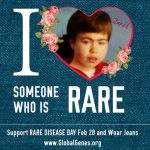 In 2000 our eldest child Sarah was diagnosed with Sanfilippo B, Sarah passed away at 13 yrs of age in February 2011. We also have 2 children ages 8 and 9 yrs with Sanfilippo Syndrome, Rachel (9) and Mathew (8).
The mission of the Team Sanfilipo is to fund research and provide support for families affected by MPS and related diseases.Please help our family and support the Team Sanfilippo. Every donation will make a difference in the lives of those affected by MPS and related diseases. Please visit teamsanfilippo.org for more information.
No donations available yet. Be the first to donate. Please click the donate button above.