My goal is to raise $
10,000.00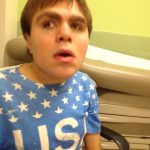 I would like to introduce Jesse, he has Sanfilippo type A. After 4 years of misdiagnosis, he received the diagnosis of Sanfilippo type A at 6 years old. We were told at that time (2001) that he most likely would not live beyond 10 -12 years old. He has 2 severe mutations. With diligent hard work and much research Jesse is still with us. He turned 21 years old on May2, 2016. He is now graduating from Maryland School for the Blind after attending the past 6 years there in the multiple disabilities program. He has thrived at this school beyond all expectations! We are so grateful for every teacher, therapist, advocate, 1;1 aide, nurse, and all the friends he has made at the school over the years. He has had some amazing support even before diagnosis from many of his teachers, therapists and aides at previous schools too! Lois T. Murray School and Moravia Park Elementary, Armistead Gardens Elementary and Maryland Infant and toddler's Hearing and Speech program.
So with all this said, we would like to announce and celebrate his birthday, graduation, and MPS AWARENESS Day, the entire month of May into June. His birthday is May 2, MPS AWARENESS DAY is May 15th, and Graduation is June 1, 2016.
In celebration we would like to challenge all who read this to donate at least $21.00 to Team Sanfilippo Foundation in honor of Jesse and on May 15th please wear purple for MPS Awareness Day! If you can donate more, please do. We are continually funding research for both younger and the older kids who will not be eligible for gene therapy or accepted in initial ERT trials and so on. There is so much to do for so many kids, even if just to pursue a better quality of life if they can't be cured.
Our goal is to raise at least $10,000 for the month of May and June. We are also asking if you work somewhere, please share this with your employer and friends and ask employers if they will match the entire months' worth of giving or at very least whatever amount the employees at your work place donate.
We are the only foundation working to find something for all Sanfilippo children and young adults. Our Jesse is a fighter, as long as he fights, so will we! We hope that in your heart you will help us this fight too!
God Bless you all,
Patty, Jack and Jesse Taormino
The mission of the Team Sanfilipo is to fund research and provide support for families affected by MPS and related diseases.Please help our family and support the Team Sanfilippo. Every donation will make a difference in the lives of those affected by MPS and related diseases. Please visit teamsanfilippo.org for more information.
Date
Contributor
Donation
Comment
05/03/2016
Roberta Blair
$21
05/03/2016
Patricia Taormino
$42
05/05/2016
Adam Shaywitz
$42
05/09/2016
Stacy Shoup
$42

Happy Birthday, Jesse!

Donation Total: $147